Norte de Santander department, located, you guessed it, north of Santander on the Venezuelan border, isn't really an overly visited Colombian department…it seems to fall between the gaps of the people who visit Santander for San Gil and Barichara, and those heading to the coast in Santa Marta and La Guajira. However, it would be a shame to skip this undervisited department, as it holds a fair few little treasures that are well worth exploring. One of these is Los Estoraques Unique Natural Area…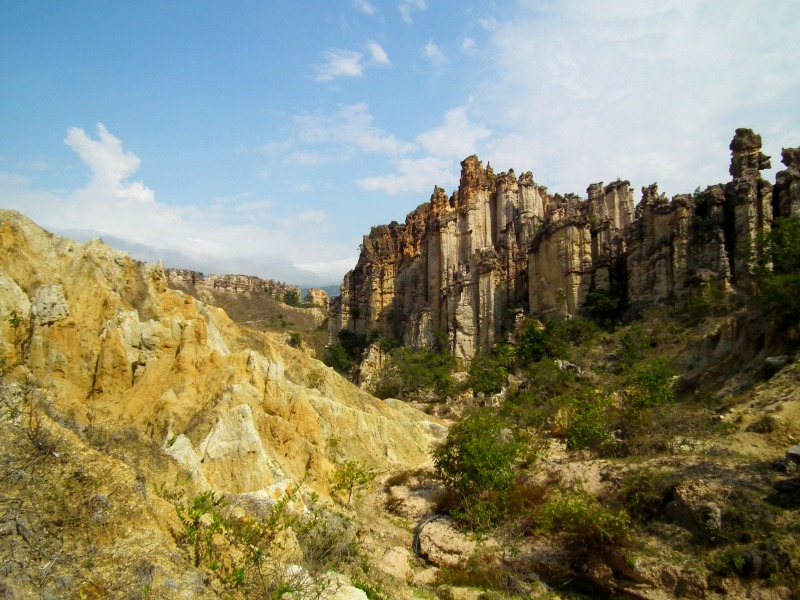 One of the country's smallest national parks at just 6km squared, Los Estoraques is located less than a kilometer from La Playa de Belen, a Colombian National Heritage town, and well worth a visit in itself. Created in 1988 (hey, I'm older!), this park is famous for it's large brownstone pedestals and columns, which jut dramatically out against the blue skies of the horizon, and conceal little gullies, rivers, caves and many species of bird and animals. Formed by thousands of years of erosion, the park is part of the Catatumbo River basin, and is set at an altitude of between 1,450 to 1,900 m.a.s.l.
Like much of the Santanders, the climate is generally dry and warm, although there is a noticeable drier season between January and March. I visited over Semana Santa in early April and there was one period of heavy rain (overnight) in 4 days, so it's a reliable place for some sun and warm weather. In fact, little tip, pack plenty of sun cream and bring lots of water to hike around Los Estoraques; it gets intense by midday…
So: hiking the Estoraques…follow the road leading north out of Playa de Belen until you reach a left turnoff which is clearly signposted. From there you pass the entrance area (with a little kiosk for refreshments) and the park is yours to explore. There is one clearly marked path branching left which leads to a series of gullies and caves (including the 'Cave of the Gringa') set in a snaking green valley which jacknifes up into the pillars. Heading right is a dry river bed – I'm not sure this is meant to be a path, but I followed it by mistake and it made for a nice stroll along the other sides of a series of columns. Watch out for snakes: there are apparently lots here, so stay on paths and cleared areas.
Speaking of nature, there is a good amount that calls this park home. With over 50 species of bird present, including the Laughing Falcon (don't let the name fool you; the call is eerie ringing out over the valleys at dawn), as well as mammals such as the Tapeti, the Jagarundi and the Crab-eating Fox, Los Estoraques is not just protected due to the impressive rock formations.
And what impressive formations they are: a hike through the valleys surrounded by these ridges and columns is a pretty awe-inspiring experience to be honest; one which I would highly recommend doing. Would I put this park at the top of a list of highlights for a 2 week Colombia trip? No: however, for anyone with a bit more time and a thirst for some more off-the-beaten-track adventures, Los Estoraques would be hugely recommended.
Practicals: La Playa de Belen is reached by a 25.000COP private taxi, or 6.000COP public bus from Ocana in Norte de Santander. The buses are less reliable – ask clearly for times and returns, and maybe get a phone number for a driver in case the bus doesn't show. Many people base themselves in Ocana, but stay in La Playa if you can; it's much prettier. A posada room (just ask around town) will set you back around 70.000COP for an ensuite double (there are no hostels). Once you're there, the park is free to visit. Get up early: it's more peaceful at dawn, and much cooler. Otherwise…just enjoy it!
Chris