On Sunday I was kindly invited to take part in the latest venture from Bogota-based travel company, Bogota & Beyond: the Septima Challenge. For those of you unfamiliar with the Septima (7ma from hereon in), it is the name for Bogota's Carrera 7, which runs all the way from La Candelaria in the city's centre to the far north. On Sunday morning it is given over to the 'ciclovia', a huge initiative which takes cars off the road and turns it's use over to pedestrians, cyclists, dog-walkers and market-traders. It's a hub of life and noise, and a fantastic way to see a different side of an often intimidatingly large city. Enter Bogota & Beyond; the 7ma Challenge is a scavenger hunt along the 7ma during ciclovia, designed to allow tourists and locals to mingle and get to know each other, and for travellers to experience a different side of Bogota.
Teams are around 4/5 people strong, and generally well-mixed between foreigners and Colombians. This is an especially nice touch, as many travellers staying at hostels never really get much chance to interact with young Colombians outside of a formal capacity. It's great for the Colombians too, who are usually students keen to practice their English. Each team receives a list of tasks to complete, and around 3 hours to complete them. They are then turned loose on the 7ma, with nothing but their wits to assist them! Each Sunday follows a theme, and each competitor (for the measly fee of 30.000 pesos) receives a free cap, bag and themed t-shirt. The theme on my week was the World Cup, which meant a whole host of football-themed challenges to go along with the regular ones.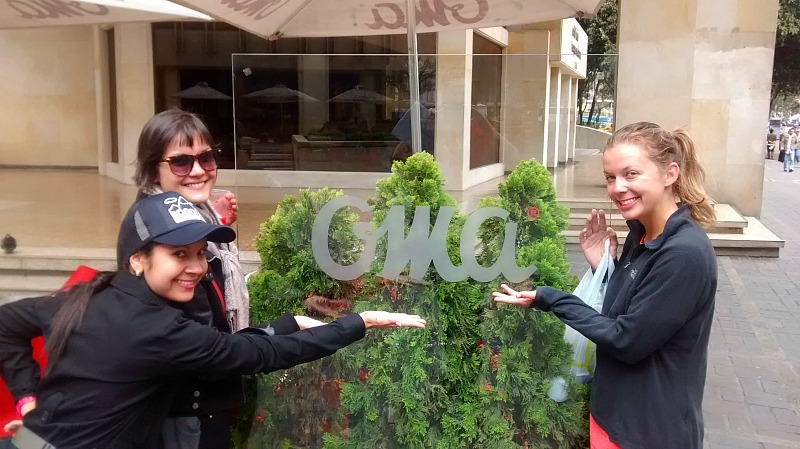 I was feeling confident, with a strong team (and some slightly unfair personal knowledge of Bogota), and was ready to bring back first prize (a bottle of champagne). We ticked off some tasks pretty early: an amusing team selfie, a photo of a dog in a Colombia jersey, a couple in a matching outfit (see the featured image; we may have stretched the definition of that one…) a snap of Colombia's oldest coffee-chain (hint: it's not Juan Valdez), and a video of someone (me) dancing salsa in the street with a local. The tasks were varied and well-thought-out; they encouraged everyone in the team to interact, and to get over any shyness and talk to Colombians – from strangers, to policemen, to street-salesmen. We had a great time filling in our list (although finding someone named 'James' proved easier said than done).
After three hours, and a frantic race to make sure we weren't last back, all the teams met up in the Australian BeachHouse bar (Cra 8 #41-39), a great Aussie themed bar, with a cracking BBQ and actual, authentic sand, for a well-deserved meal and a few cold beers. The scores were calculated, and a few extra tasks (most inventive goal celebration, keepy-uppy contest) performed. Once the winners were announced (not my team; see lucky winners below!), the BeachHouse hosted an afterparty, complete with games and live music.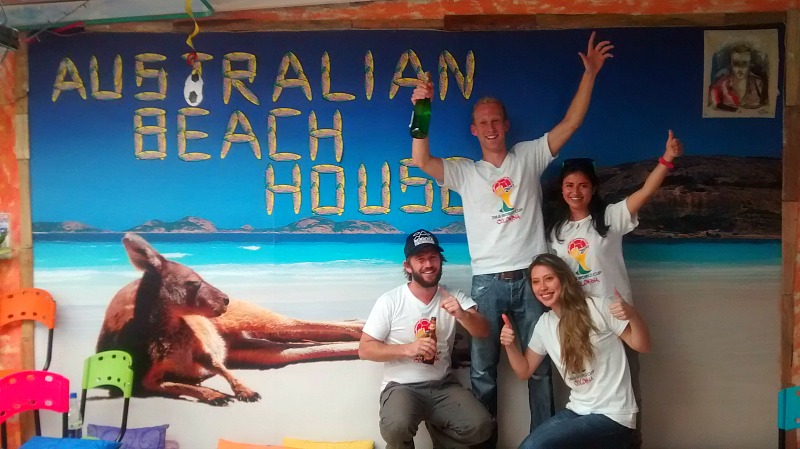 The 7ma Challenge is a fantastic way to experience a different side of Bogota, interact with people you might not otherwise meet, and have a great deal of fun thrown into the bargain. It's a truly innovative idea, and one with a great deal of potential to become quite a big deal in Bogota over the coming years. I highly recommend checking out their website and booking yourself onto the next challenge. I'll see you there!
Bogota & Beyond can be found on Facebook, and through their own website.
Chris