In May 2012, I started working on a documentary film project entitled, A Journey to Colombia. Through the film, I want to give people insight into my search for understanding my identity, family history and Colombian heritage. The goal of the documentary is to educate the audience about the beauty of Colombia and the Colombian people while contradicting Hollywood-stereotypes by displaying the country's diverse culture, economic advances and the resilience of the people.
For the last year and a half, through social media, I've met so many wonderful people around the world from Scotland to California, from Canada to Colombia, who are supporting the film.
Now with the help of See Colombia Travel, on this blog, I would like to share not only my journey but also the stories of the other amazing people I've meet during this experience. We all have a passion, a love, a reason for going to Colombia.  I hope that you find these stories inspirational enough to share yours or to make your own travel plans to Colombia.
Luis Eduardo Villamizar
In early Mach 2013 I met Yonatan Arnold via an email he sent me about finding my website during his research to locate his biological parents.  After speaking with Yonatan on Skype I was very impressed with this young man and his quest.
It is estimated that 2% of the U.S. population, or about 6 million Americans, are adoptees. Including biological parents, adoptive parents, and siblings, this means that 1 in 8 Americans are directly touched by adoption. Surveys show that a large majority of these adoptees and birth parents have, at some point, actively searched for biological parents or children separated by adoption. They search for many different reasons, including medical knowledge, the desire to know more about the individual's life, or a major life event, such as the death of an adoptive parent or the birth of a child. The most common reason given, however, is genetic curiosity – a desire to find what a birth parent or child looks like, their talents, and their personality.
I recently caught up with Yonatan and his journey.  Since meeting him, Yonatan has accomplished part of his goal by finding his biological father.  He also moved to Manizales, Colombia and found a job teaching English while continuing his search for his biological mother.
Luis: When did you start searching for your parents, Yonatan? 
Yonatan: I started to search for my family in May of 2012. I located three sisters I had lost contact with for twelve years first, a brother I haven't spoke with in three years, and four siblings I never spoke with since we were adopted (21 years separation).
In the winter of 2012 I contacted private investigators to help me get the connection with my parents. The investigators worked out of Bogota. I presented my information and they worked with it. I knew they were going to find my father and they did. Due to the uncertainty, I was glad I went with the investigators.
I hired Colombia Tu Pais. They did a great job and helped me with connecting me to my father. I would recommend them to anyone.
I first contacted my biological father on March 5, 2013. It was great sending him the email and having him respond back to me. It was then that I knew that my "journey to Colombia" had to happen. I knew I needed to start to find my biological mother.
Have you met with your biological father?
Yes, during Christmas 2013 I spent it with my biological family in Medellin. December 28, 2013 is the date I first met my biological father.  We met at my aunts' house, whom I first met a few days before.  It was great looking at photos of my father and meeting this new family. He answered my questions and told me about my biological mother. He knows nothing about her because they separated soon after my siblings and I were removed from the family.
During that time I walked through the streets of Medellin with family and friends searching for her.
I received a 291-page document from ICBF (Colombia child protection services) about why my family was removed. It has many things I did not know before.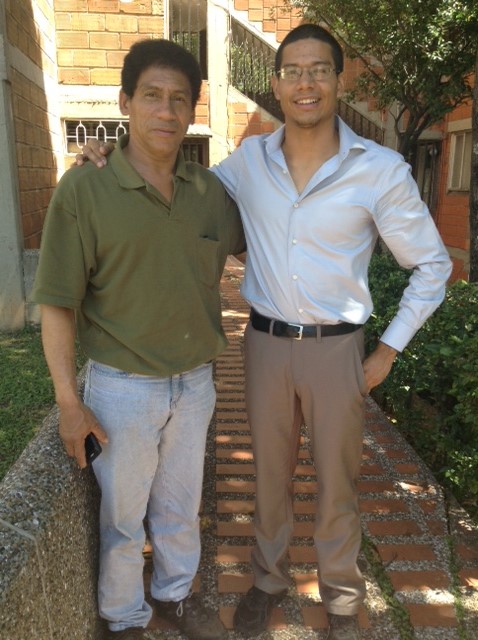 What information do you have about your mother? 
Her name is Luz Elvia Garcia, born on March 19, 1964. I currently have little information about my mother. I have her cedula number and I have also attained a photo of my mother from 2000. Right now I'm asking friends to help me locate her. It's been a difficult task. I've had an article written about my search in the department of Caldas newspaper: La Patria in September 2013 (http://www.lapatria.com/node/44647)
How did you go about planning for the move to Colombia & getting a job there?
I knew I wanted to come to Colombia for many years. Since I was little, it's been my dream to come back to where I was born and to learn the language I had lost (I was adopted when I was three years old). My oldest sister, Rosa, would talk about living in Colombia while I was growing up and I wanted to go!
In the summer of 2013 I found a great program teaching English in Colombia. I was living in Washington, DC when I found it. I applied for the program named WorldTeach.
This is a volunteer program that gives individuals an opportunity to teach English. The program's a year long. They provide a small stipend for food and work transportation. I applied and got accepted.  This was perfect timing because a few days after getting accepted into the program, I got my Colombian Cedula which I was waiting to get for six months.
How do you like living in Colombia?
I love Colombia!  The people are great. The music is great. The dancing is awesome. I have many Colombian friends and they're happy to share the culture with those who don't know it. My good friend Felipe has invited me and my other friends to many places, including his hometown. I'm learning the language which is opening doors for me and I'm learning more about the culture. Each region is different but they all have one thing in common, they love Colombia!
What's been the biggest surprise for you since moving there?
The most surprising thing for me was how I felt comfortable with hearing the Medellin Paisa accent. It sounds great to my ear.  Another big surprise was how the culture is very different from the USA. From the greetings, to security, to even how you communicate to other people. My sister Rosa said before I left that "it's a whole different world." I believe her to a point because the history of Colombia has influenced the culture so much.
What do your brothers & sisters think of your quest to find your biological parents?
I spoke with my sisters and Jenny said: "you were a little crazy, really brave and very smart how you went about it.  You used all the resources you could think of, friends, papers, even people in politics. You can say you truly tried and did it in smartest way.  The information you found was not always pleasant but you keep a level head throughout."
My sister Nasly said, "I'm thankful for my brother Yonatan and that he has found the courage to find our parents, however I'm very nervous at the same time."
When do you think you will return to Colombia?
Yes, I will return to Colombia. I've found family here I didn't know before, great people and I love the culture.  I believe that the general public belief about Colombia in the US is greatly false. There are safe places and dangerous place in Colombia like there are in the US. Common sense is what guides you in both countries. The history of drugs is what guides the media and popular culture. In Colombia the popular culture believes all Americans are rich. I want to say this– not all Colombians do drugs and not all Americans are rich.
What about this experience or advice would you give to others on similar journeys?
My advice is if you are on a "journey" to find your roots or of one of discovery, you have to be at peace with yourself. Do the necessary paperwork and take the plunge to discovery.  I would like to end with this quote, the one that got me to reach for Colombia:
"Twenty years from now you will be more disappointed by the things you didn't do than by the ones you did do. So throw off the bowlines, sail away from the safe harbor. Catch the trade winds in your sails. Explore. Dream. Discover." -Mark Twain
If you have any information or to assist Yonatan on his journey to find his mother, who he believes lives in Medellin, please contact him directly via Twitter: @YA_Colombia or leave a comment below.
Luis