I don't want to sound disgusting (Hey! I"m just big stomach-boned), but I've a confession to make. I'm kind of in love with Colombian burgers. I don't know what's happened – I've never eaten so many burgers anywhere else. It seems as if hardly a week goes by in Colombia that I don't find myself somehow guiltily wiping my face of barbeque sauce and pineapple jam, after having caught myself in that shameful act yet again. Don't judge me; I was once like you. What's happened?
Well, maybe it's down to 5 of the best spots to get your delicious cow sandwich. Granted, burgers are basically on every corner of every Colombian town, but these are our picks for gut-busting, greasy, post-burger guilt. And, although they might not feature beetroot, they're still pretty damn good. Go on, get amongst it, guys.
1. El Corral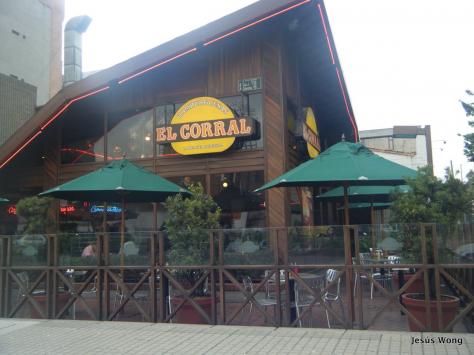 Well, it's hard to go past El Corral without nipping in for a quick bite. If only just because they're pretty much anywhere, even Florida. Here, they're more ubiquitous than the Golden Arches, and I – as well as everybody else that enjoys eating actual food – am eternally grateful for this fact. I'm not aware of another honest-to-blog burger chain that's as good. They are a bit pricey, but almost ridiculously HUGE. You get a proper, juicy, tasty slab of meat and the range is pretty satisfactory – try a Double With Cheese if you've no time to fool around. The Criolle one's got egg on it, too. I've not yet convinced them about beetroot – but that's a work in process.
2. La Hamburgueseria
Having not yet conquered the rest of Colombia (first they take Bogota, then it's Medellin), a wee bit cheaper than El Corral; and, for me, besting the Colombian Burger King (oops, I mean El Corral) for flavour and atmosphere, La Hamburgueseria, will see me back again. Sorry, guys, you'll just have to deal with me. Usaquen's is probably the pick of the locales – they even have weekend live music – but Park 93, La Candelaria, and La Macarena have great restaurants, too.  So lovely, that "restaurant," actually isn't a euphemism here. Get the Blue Cheese one. Do it. They've a selection of seriously tasty beers, too – just saying.
3. The Rock Band Burgers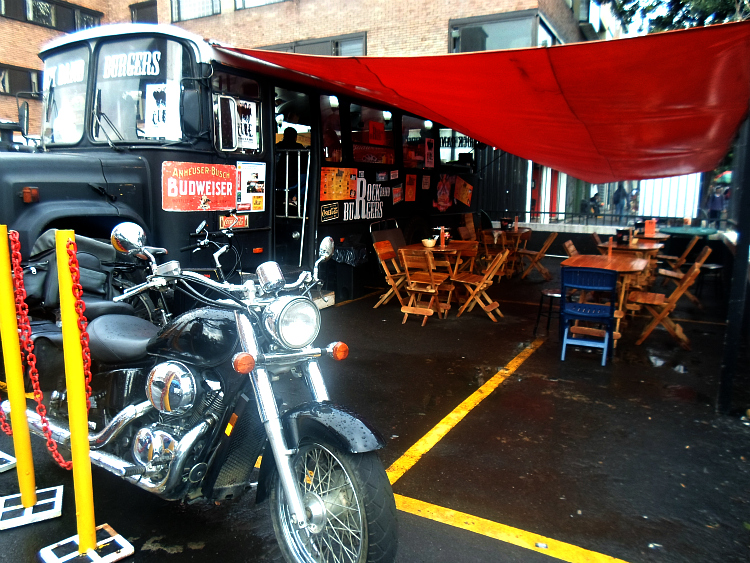 Before we leave Bogota (Burger Capital), I thought I'd mention this place. This bus (don't adjust your sets; that's what I said) lured me in because they were banging out that timeless classic, "The Land Down Under" (where beer does flow, and men chunder). The Lenny Kravitz is seriously good, even though I was a bit confused as to why Lenny would put his name to a food featuring bacon. Those rock stars will do anything you ask them. Continuing with the Colombian theme, the burgers are massive, and the stuff here is fresh, succulent, and full of meaty goodness. Plus, you get to eat it in their bus, that leaves from Calle 72 (next stop, Flavour City) and is lovingly and carefully made over. The two brothers running the show are friendly and seriously concerned about the quality of their burgers, and they play the best cheesy rock the 80s and 90s have to offer. Oh, you do realise: it doesn't actually go anywhere literally, right?
4. Chef Burger
Don't lament though, Medellin: you've got more than your fair share of top-notch burgers, too. By overwhelming popular demand, Chef Burger is the Paisa Pick. Conveniently located in Poblado Party Central (there's one in Laureles, too), this joint's friendly atmosphere alone will have you hooked. But, we're not here to talk about the ambience, when there's the serious business of beef to attend to. Chef Burger does the word, "hamburger," proud. In classic paisa tradition, the Pepper Jack comes with an arepa, but I'll have the Royale (it comes with cheese, of course), thank you. Big enough to shut me up, at least for a while, presented nicely on fake newspaper, and cooked to perfection. Oh yes, this place has got the best chips of the lot of them, too. Mc Cain, are you serious?
5. El Chaparral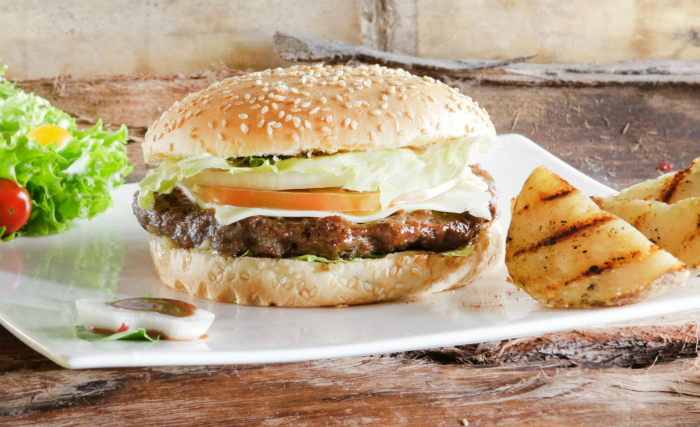 Pasto is slightly different. Years ago, the city was one of the last few royalist strongholds, resisting the trend prevelant elsewhere in Colombia. These days, they resist the burger imperialism of El Corral, and the main reason for El Corral's failure to conquer this southern city is El Chaparral. No messing around with "Italian" or "Arab" style burgers here – let's focus on the meat: that's the number one priority. As they also offer straight-up barbequed meat dishes, El Chaparral do their humungous patties right. Get involved with a Super Special, because, you know, it's super special. They deliver, too. In Pasto: I don't think that stretches to other cities just yet…