They say a picture is worth a thousand words and  since the infamous Timeline change  last year, that seems to be a huge understatement in Facebookland. It's well known that a good image in your Facebook Timeline has at least 4 times the chance to viralize.  Over the last few months we at the See Colombia Travel team  have been tweaking and trying to find a "voice" for our visual FB posts.  So here are 15 of our most shared, liked and commented Facebook images, let us know what you think and feel free to share, like, comment, tweet, stumble upon, pin or tumblr any of this images if you like them 🙂
1. Anthony Bourdain Has This to Say About Colombia: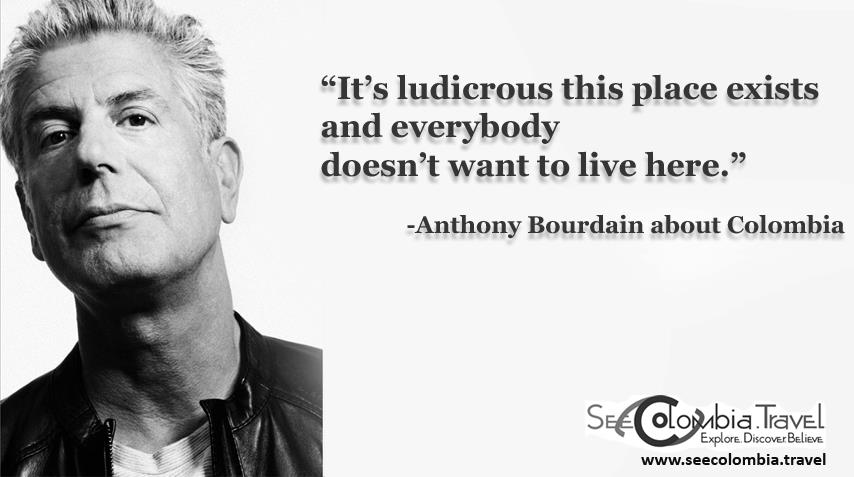 2. Our Very Popular Colombia Meme: The only "U" in Colombia Should be YOU.
 3. This Picture of the Amazing Santuario de las Lajas in Narinho Was Pretty Popular Too.
 4. See Colombia Goes Vintage and Tells the World That This is not Your Parent's Colombia.
5, 6 & 7. Our "Love Colombia, Like Us" Series Showing the Many Colors of Colombia
9-13. Travel Quotes With Outstanding Colombian backgrounds? You got it!
14 & 15. Real Time Sports Events Posts Involving One (or many) Colombian Victories Are Very Appreciated Too.
The See Colombia Travel Team