My introduction to the wonderful world of craft beer in Bogotá actually starts with a cold can of Poker. It seems like an odd way to begin a tour that promises to show off the very best of the city's burgeoning craft beer scene, but there's method to the 'madness' – the beer is designed to illustrate the gulf in quality between the most ubiquitous Colombian beers (the owners of which effectively hold a monopoly on beer production in Colombia) and the ones we're about to sample. As our guide Simon puts it: "This is the worst beer you'll drink tonight." Well put…
The Bogotá Craft Beer Tour is the brainchild of Australian tour operators Bogotá & Beyond, who realised that they were drinking the best beers in the city in the evenings around their home and that the average traveller in Colombia would have little or no way of knowing where to go to drink these beers. The craft beer scene in Bogotá is a couple of years old at best (a few breweries have been doing it longer, but it's only in the last couple of years that a verifiable 'scene' has evolved) and these excellent bars are basically a local secret. And with craft beer basically being the newest 'hip' thing around the world it made total sense to them to start showing tourists the world of Bogotá craft beer. So here I am, on a Thursday evening in La Candelaria, drinking a cold Poker (I still like it, sorry purists!) in Papaya Gourmet cafe with my fellow attendees, ready to dive headfirst into as much delicious beer as I can handle.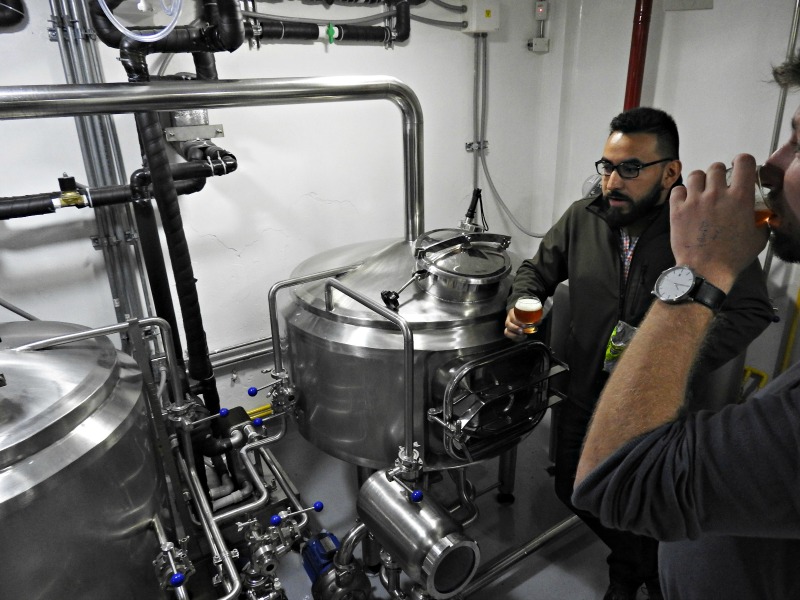 The tour takes in 3 craft beer bars, as well as a local brewery. Bottom line for those of you who are all about the beer: you'll sample roughly 15 different beers over the course of the 4 hour tour, and enjoy at least 4/5 full beers of your choice. The tour includes transport from La Candelaria to the 4 spots (all of them in Parkway and Chapinero), finishing at the final bar at around 9pm. You get some delicious Colombian tapas with your beer samples at the third stop, for those of you worried about dinner (they also have a delicious full menu, and there's time to order a meal). All of this costs 70.000 COP (about $23/£19): cracking value for a 4 hour tour with food, lots of beer and transport. And, to be clear, this is no simple bar crawl: you will learn a lot about craft beer in Bogotá, the beer industry in Colombia, and the brewing process. You will also meet a range of inspiring and interesting local and international brewers, passionate about their industry and working hard to bring something new and special to the Colombian market. So, that's the numbers dealt with, onto the tour…
Our first stop was a great little bar in Parkway named Dos Carreras – this excellent space is home to 11 invitational craft beers, as well as an art space, ping-pong table, and live music at weekends. A large board behind the bar lists the beer options, as well as the brewery and the alcohol percentage. With the tour we were sampling 4 different beers, with the option to then choose our favourite for a full drink. We sampled a Citra IPA by Rustica, an Irish Red by Master Beer, the Mohan dark ale by Manigua, and a Brown Ale named Monkey Punch by La Quince. With a variety of different flavours and alcohol contents (8% for the Mohan!), these samples offered a fantastic introduction to the wonderful variety on offer in Bogotá's craft beer scene. The Monkey Punch was named after our simian ancestors as it is made with banana and carries a hint of cinnamon – it was an interesting taste, not my favourite, but certainly creative. After sampling all 4 beers and listening to the bar owner Javier discuss the process behind the beers and the bar, I settled on Mohan as my favourite (not just for the 8% I swear), and our group enjoyed a few games of ping-pong with our beers. Once they were drained it was back in the bus and on to the next stop: Madriguera Brewing Co.
Madriguera is the truly unique stop on the craft beer tour: this is an independent brewery in an innocuous looking house in Teusaquillo, and is not open to the public, so you're really getting a privileged Bogotá beer experience here! They produce 3 different beers and one of only 2 ciders in Bogotá, and have a production capacity of about 2,800 litres per month. Their beers and ciders are sold throughout the city, and are all quite distinct: after sampling 2 beers and the cider I settled on Oso Teddy Oatmeal Pale Ale as my favourite. The beers here are sampled during an introduction to the brewing process by founder Teddy, and then throughout the exhaustive tour of their actual brewery, where Teddy and his master brewer, the impressively bearded Oscar, take you through the entire process, from hops and water to delicious beer. The drinking protocol here is a tad more relaxed: just head to their beer-tap fridge when it takes your fancy and pour yourself another (within politeness' limits obviously!). This section of the tour is where you really learn about all the hard-work that goes into brewing craft beer in Bogotá, and the challenges facing the independent brewer – Bavaria, the monopoly behind virtually all of Colombia's biggest beers essentially drafted the laws on beer production, meaning brewers pay a separate tax on every single different style of beer they produce! It's no wonder craft beer makes up about 3% of the beer industry in Colombia…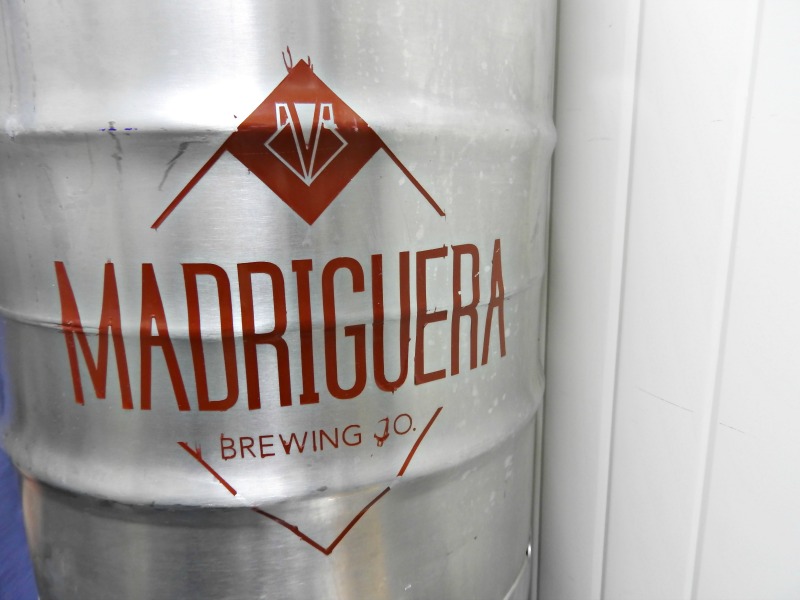 The next stop is Cerveceria Gigante, a brewery and bar owned and operated by Will, a native of San Francisco who has lived here for about 4 years. He had always dreamt of opening his own craft beer place back home, but could never have imagined opening somewhere in the expensive surroundings of his home town – so, about 6 months ago he opened Gigante, and hasn't looked back since. He gives us a tour of his downstairs brewery, going into a bit more detail on the science of the process, before we head back to the bar for 3 more beer samples (each accompanied by delicious and creative tapas sides) – we try a Citra Pale Ale, a red IPA and a Porter. I opt for a pint of the Porter (the best I have had in Colombia) and order a veggie burger from the main menu (also excellent). By this point the beer sampling is starting to morph into beer drinking, and everyone is starting to look decidedly more relaxed and merry than a couple of hours earlier. On to the final stop then.
That final stop is El Mono Bandido bar in Chapinero Alto. By this point we're all ready to just drink another pint of delicious local craft beer, so Simon makes a choice for us (the delicious and distinct Witbier), and we head to the window table to chat about travel plans and beer preferences. The bar is buzzing with a really nice atmosphere and everyone is relaxed and enjoying themselves. That's what's nice about the Bogotá Craft Beer tour: it's informative and engaging, but not excessively fast-paced or rushed. There's time to enjoy the beers, the company, the bars and the atmosphere; it always felt like we were learning and exploring, but never like we were just running around from bar to bar or going through the motions. The operators have got the balance just right between bar-crawl and learning experience: everyone left the tour feeling pretty merry, but also like they had gotten their money's worth of information and craft beer.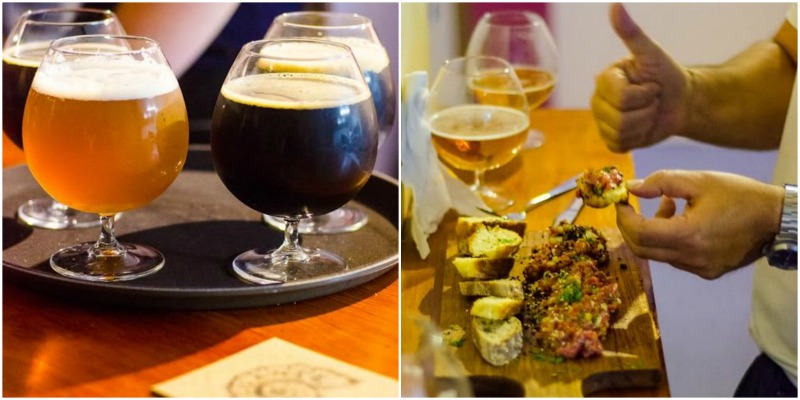 The Bogotá Craft Beer tour is part of a growing range of increasingly creative tours operated by adventurous and imaginative businesses – no longer is Bogotá a city where you pass through, visit a museum and a church, and then head off. Experience tours are growing in numbers and popularity: you can sample Colombian chocolate, tour coffee houses, bind your own books, eat food with top chefs. And now you can visit the best bars in the city, learn firsthand from the beer experts, and sample the very best of Colombian beer. Bogotá is a city undergoing a culture and tourism boom, and this tour is another excellent addition to an already diverse offering for the creative and engaged traveller. Do yourself a favour, book it when you're in town!
Chris