Is Colombian coffee the best in the world?! The experts certainly seem to think it's up there, and we most definitely agree! But why is coffee in Colombia so good? Today, on International Coffee Day (October 1st) we thought we'd take a look at the best of Colombian coffee and give you the 8 reasons why we love Colombian coffee…Let's get started:
1. It's everywhere!
Sadly, the very best Colombian coffee largely ends up outside the country (it's so good everybody wants a taste!), but the coffee culture in Colombian is so strong that it's virtually impossible not to get a coffee here, anytime, anyplace. Every little shop seems to have a flask on the go, and on almost every street corner there's a vendor of some product who also has some little tintos to sell: a tinto is an intense hit of strong black coffee, liberally sweetened…it's not to everyone's taste, but we love it, and you can get it at any time! Which leads us on to…
2. You can drink it anytime!
In my home-country people would think I was weird if I fancied a coffee at night…not so in Colombia. Because a tinto isn't all that high in caffeine, it's quite common for people to have a coffee just before bed here, which suits me just fine! As a slightly obsessive coffee drinker I don't believe that any time of day is inappropriate for a coffee, so living in Colombia is perfect!
3. 12 for 12…
Colombia produces about 12% of the world's coffee (in only about 0.1% of the world's land): Brazil is the number one producer, with 30-35%. However, the key difference here is simple: virtually all of Colombia's 12% is high quality, top-notch coffee! That's basically a 100% excellence record! Not too shabby, right?! Almost every bean is hand-picked in small-hold coffee farms, making every bag of Colombian coffee a labour of love: the National Coffee Association even acknowledges that this level of care and attention makes for some darn good coffee.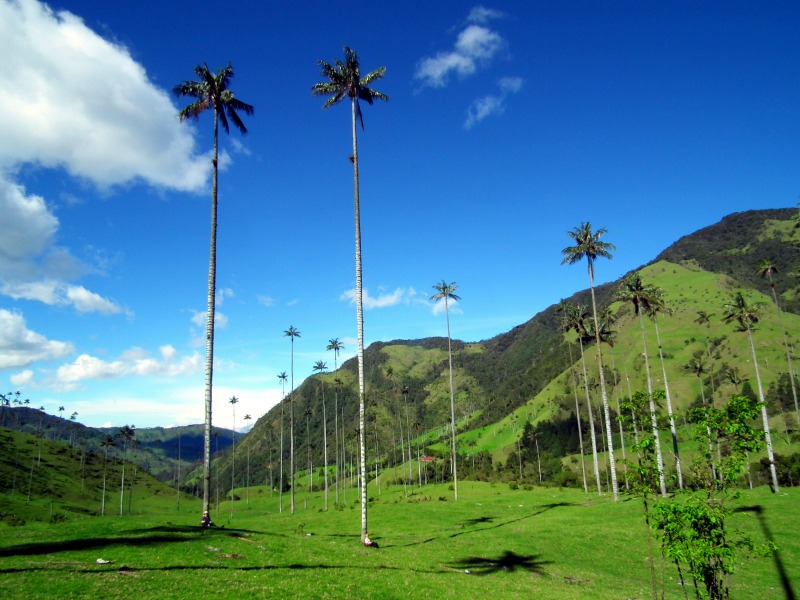 4. Geography
Colombian couldn't really be better located to produce amazing quality coffee: the rugged Andean cordilleras that split the centre of the country into three form the perfect basis for producing world-class coffee. Arabica coffee (generally acknowledged as the best over the alternative, Robusta) thrives at higher altitudes in rich, volcanic soil, and Colombia can certainly offer both of those things! This mountainous landscape has, somewhat ironically, made transporting the excellent coffee it produces somewhat tricky, but the deliciousness more than makes up for it…
5. The places it grows are just so beautiful!
Sure, this might be true around the world, but we're biased…sue us! Colombia's coffee-growing regions aren't just the place where world-class coffee is grown, they are usually stunning to behold. The Colombian Coffee Triangle is a UNESCO World Heritage Site (as "The Coffee Cultural Landscape of Colombia"), and contains such beautiful sights as the Cocora Valley and Los Nevados National Park. Places like Jardin, Pitalito, San Agustin, Minca etc. etc. all produces amazing coffee and are beautiful at the same time: so you can plan a trip to gorgeous Colombian towns and countryside and learn about coffee all at once!
6. Arabica, baby!
As I mentioned on #4, Arabica coffee is preferred worldwide to robusta and…guess what?! Colombia only grows Arabica; one of the only countries in the world to do that! Arabica contains half the caffeine of robusta and has a softer, sweeter taste. The fact that Colombia only grows arabica is just one more reason for the world-class quality of Colombia beans.
7. It's not just Starbucks…
Although the mega-chain have recently started opening branches in Bogota, Colombia's specialist coffee industry is growing and developing rapidly: there are now more and more small, specialty coffee places opening up in the major cities, committed to making coffee more than just a drink, but an experiences as well. Medellin's Coffee Laboratory (loved by the BBC), and Bogota's Amor Perfecto, Azahar, Bourbon and Cafe Cultor are all paving the way for Colombian coffee culture, by showcasing amazing coffees prepared in a variety of ways. Check out our "Top 5 Indie Coffee Shops in Bogota" for more info.
8. This guy:
Enough said, right!?
Chris