At See Colombia Travel Towers (it's on the ground floor to be totally honest…) we all love Anthony Bourdain: a committed traveler, food-lover and, yes, aficionado of some slightly stronger beverages! And the best part of it is…Bourdain loves Colombia; so much so that he's visited here twice to film episodes of his wonderful TV shows No Reservations and Parts Unknown. During those episodes he played tejo with Ondatropica, rode ATVs in La Guajira, flew into the deep jungle in a tiny little plane and drank numerous shots of aguardiente. But mainly he ate. He ate a lot. And seeing as it's 'Food Week' at See Colombia, we've put together a little list of the best places Bourdain ate at, so you can relive the experience on your visit to Colombia: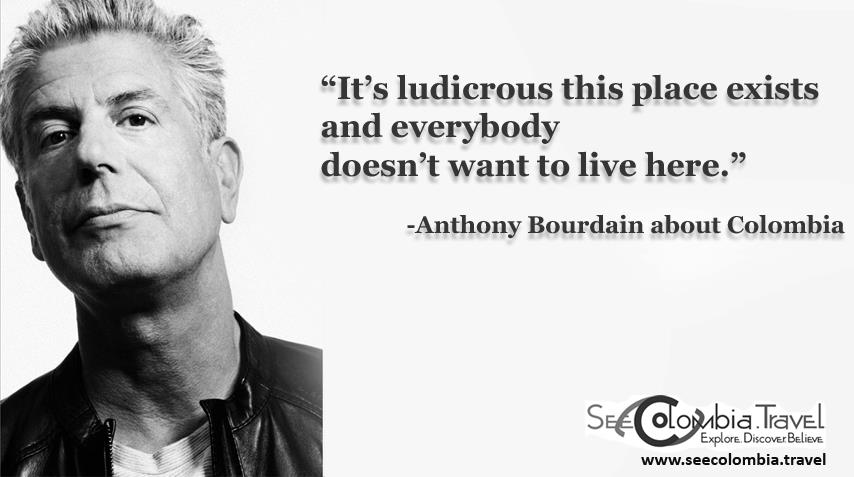 1. Tabula & Paloquemao – Bogota
Bourdain hung out in Bogota with Tomas Rueda, the young, experimental head-chef of Tabula (Cll 29 Bis # 5-90), a popular restaurant in La Macarena, which creates wonderfully detailed Colombian-style meals. First they went food shopping in Paloquemao (Cl. 19 # 25-04), a huge market, which is particularly worth a visit on a Sunday. There are little food stalls in the market serving hot meals, and the variety of fruits is quite astounding. A real foodies paradise. As for Tabulla: make a reservation and try the Osso Buco…Bourdain loved it!
2. Sevichería Guapi – Cali
This little neighborhood ceviche place in Cali is where Bourdain hung out with Quantic and Ondatropica after a game of tejo (at a place called Club Social Los Amigos – Calle 49 / 8A-23), and it certainly merits the recommendations. I started with the traditional Colombian ceviche (made with a ketchup/mayonnaise sauce), and then had a fried pargo rojo (red snapper) dish with fried plantain. Sevicheria Guapi (CRA 24 # 13-18) is a friendly, family place with some of the best Pacific coast seafood going.
3. Restaurante Mar Azul, Mayapo, la Guajira
After a hair-raising ATV accident, Senor Bourdain cools off here, a little Guajira-style shack by the sea, with a few cold beers, some guaro, and a delicious looking cazuela de mariscos (a kind of fish stew). The sun is setting, the fish is fresh, and there's a slight breeze from the Caribbean – a perfect Guajira evening…Whilst in La Guajira, he also pays a visit to the Mercado del Chivo in Riohacha to see firsthand how the goat-trade works in the autonomous Wayuu region.
4. La Puerta Falsa, Bogota
On Monday I called it my favorite restaurant in Bogota, and it seems I'm in good company! Bourdain ate here in La Candelaria with celebrated Colombian author Hector Abad to discuss Colombia's violent history. They also enjoyed the best ajiaco, tamales and hot chocolate with cheese in the city.
5. Anywhere that serves a good bandeja paisa…
The Antioquia staple: a hearty mixture of beans, rice, egg, meat and avocado, proves a complete hit with our Anthony, and he eats a few during his time in Medellin and Colombia. It's available anywhere, but visit Medellin for the true paisa experience. Just remember to loosen your belt first…it's a big meal!
Chris