Peru has Machu Picchu, Mexico has Chichen Itza, and Colombia has La Ciudad Perdida, or The Lost City. This ancient city of the Tayrona people of Colombia's Caribbean coast was built in 800AD (making it some 650 years older than Machu Picchu), and was only discovered as recently as 1972. The beauty of this fascinating piece of Colombian history is that it is still only accessible by trekking through some of Colombia's most diverse and spectacular scenery, therefore it is completely lacking in crowds, and retains a truly authentic feel. No busloads of tourists to compete with for that perfect holiday snap here!
The trek itself is an essential part of any visit to Colombia, and is fast becoming a Latin American 'must-see' destination, due largely to it's less touristic atmosphere. It can be organized all over Colombia, but your best bet is to arrange your trip from Santa Marta or Taganga, as you will be able to deal with the tour companies directly, and meet the guide who'll be taking you on the trek.  The Lost City trek can be completed in 5 days and 4 nights, or, for the super-fit amongst you, 4 days and 3 nights. I don't rank in the super-fit bracket (too much time sitting in this chair writing about Colombia!), so I took the 5 day option. This is perhaps more recommended though, unless you're short on time, as you are able to take more time to appreciate the changing scenery and vegetation around you, and to enjoy a couple of lazy afternoons swimming in one of the refreshing rivers you'll pass along the way.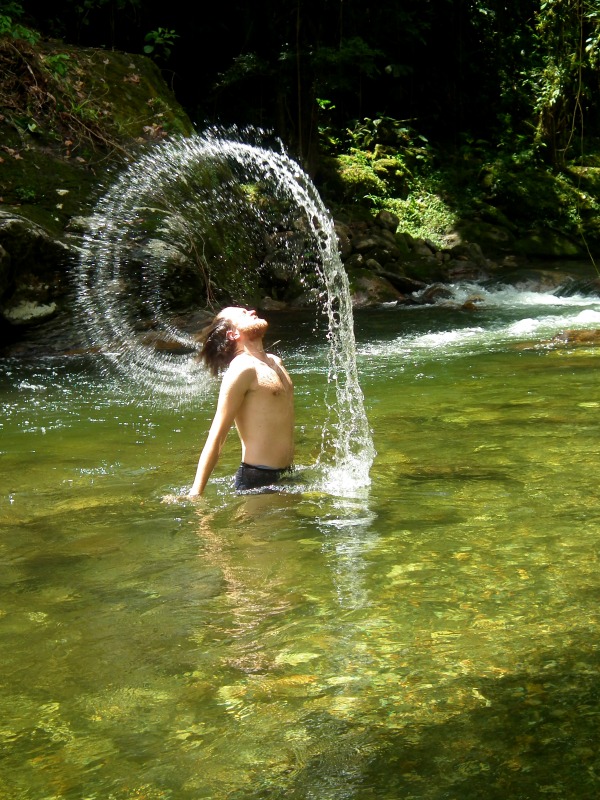 The trek is of medium difficulty, but it does include some long uphill sections, river-crossings and muddy areas, so a good pair of hiking boots and some stamina are essential ingredients. The accommodation is basically comfortable, but you will sleep in hammocks on the first and last nights, and the rest of the time in dorm-style bunks (all come with mosquito net though).
The first day begins with a jeep journey up into the Sierra Nevada de Santa Marta. You eat a quick lunch before departure, then it's time to get trekking. Day One starts out gently enough, with a winding path through low-lying forest, past a calm, deep river pool, where you'll have time to stop and cool off with a dip, surrounded by thousands of tiny fish. Then it gets a bit more challenging with a long, winding uphill which will leave even the fittest of hikers pretty puffed out! There's a nice little tienda at the top as a reward though, and from then on it's all gentle undulations, and spectacular viewpoints until your dinner and hammock on the first night.
On days Two and Three, the trek begins to head into deeper, thicker rainforest, and the river crossings become more regular and a bit more challenging. During wet season, the rivers can be waist high, but in dry season it's just a simple stroll across. Don't get too cocky though, on my trek someone still managed to topple into the river, bag and all! No injuries, only some bruised pride. The trek also passes through several Kogi Indigenous settlements, giving you a rare opportunity to experience some of their traditional ways of life. There are plenty of stops for swimming on these days, and accommodation on both nights is next to a river, so make sure to pack a swim suit. I forgot, and subsequently had to endure some pretty inconsiderate teasing from my fellow trekkers regarding my tight, wet boxer shorts (photo not included)!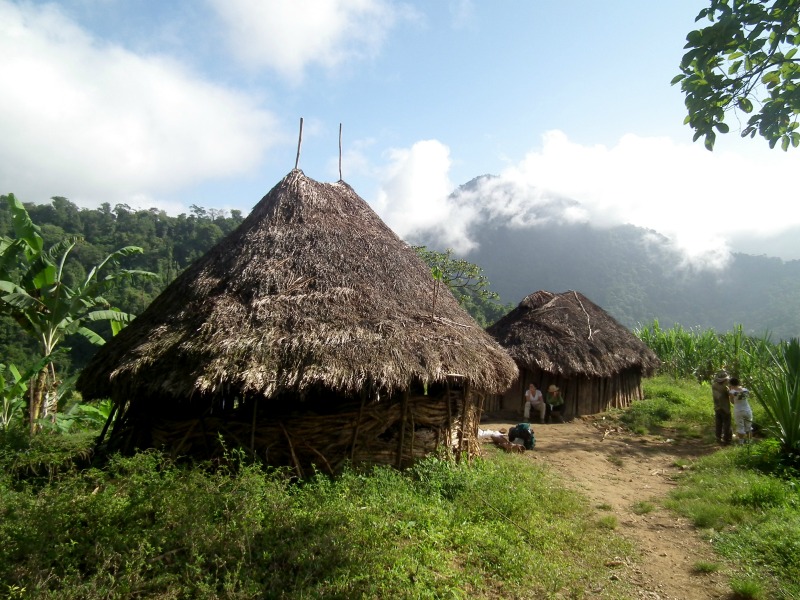 Early in the morning on Day Four, you'll rise with the dawn, and set out to discover the Lost City for yourself. Not before negotiating with some 1,800 slippery stone steps first however. Once this obstacle is over with, you'll have several hours to enjoy wandering around the stunning site of one of the oldest known archaeological sites in the South America, taking in the awe-inspiring views, and wondering how's it's possible that a site as lovely as this went undiscovered for so many years. Then it's time to get going, and the next two days are spent retracing your steps until you arrive, sweaty, tired, and elated back at the starting point on Day Five. Money and time well spent!
All in all, the trek to La Ciudad Perdida must rank as one of Colombia's top travelling experiences and is a must-see for anyone who enjoys trekking, history, culture and nature. This trek combines all of these things and more, and deserves its place as one of the highlights of many people's South American adventures.
Chris