Today we are honoured to have a special post by our friend, Dani Meroño, El Cocinero Viajero (The Traveling Chef) , who is contributing to the See Colombia blog with his fantastic and insightful understanding of Colombian gastronomy.
La version en espanol de este post aqui: Comida de Santander
————————————————————————————————————————————
The inhabitants of the Santander region are battle-hardened people who spent the first few centuries of the Spanish conquest working as livestock herders or farmers. Industry and commerce flourished in stages here and during the 19th century, attracted by the exploitation of gold mines, numerous Germans, Italians, Spaniards, Englishmen, Frenchmen and Jews arrived, a fact which has contributed to creating a unique race and the particular Santanderean customs. This also meant that the cuisine of the region became extremely varied and diverse, both in terms of ingredients and flavours.
In the capital, Bucaramanga, one can lose oneself in its plethora of parks – it is known as the City of Parks – and find all sorts of typical food carts, selling fruit, sweets or yuca and plantain chips. But the best way to start your day is with a strange but typical breakfast in the Guarin Market: vein soup. Yes, you read that correctly, beef vein soup. A thick soup with a metallic taste, complemented by roots and vegetables.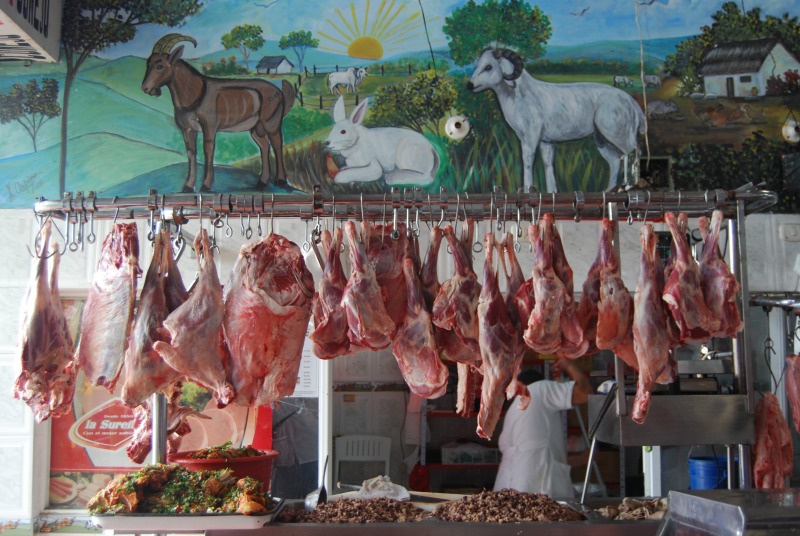 If this dish isn't to your liking, you have to try "Mute" (see top photo), a European-influenced stew made with leg of beef, pork, offal, corn, chick peas, beans, broad beans, squash and potatoes, simply a gastronomical marvel. In this small, but very well-stocked, market you can also find the region's most consumed meat alongside beef: goat. It is sold seasoned in a number of different ways, making use of all the innards. Seasoned well and cooked along with a side of rice and egg, this surely makes up one of my favourite Colombian dishes, la pepitoria. And there's nothing better than a Santanderean arepa to accompany your pepitoria. These arepas differ from other Colombian arepas, being made with yellow corn, lard and minced sausage. Basically a truly delicious calorie bomb.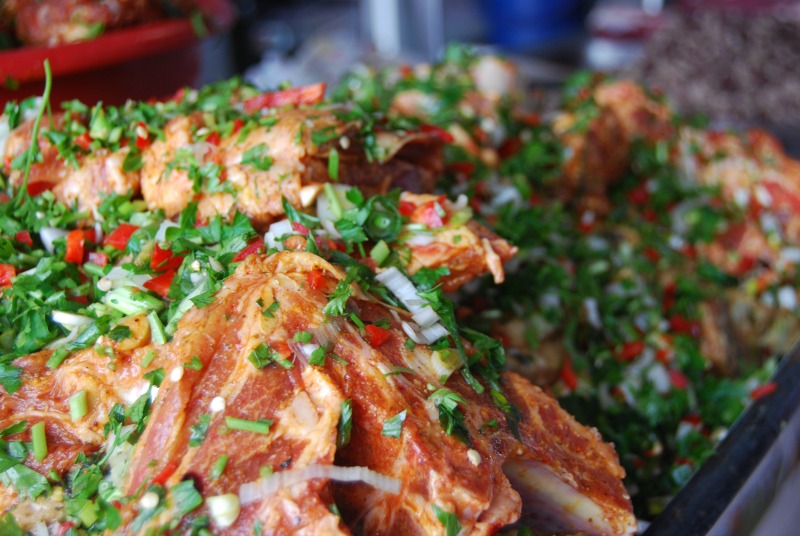 In this beautiful region they are goat-cooking experts. It comes grilled, stewed or shredded with rice. No place does it better than "El Viejo Chiflas", a traditional restaurant with over 50 years' experience with these local delicacies. Of course you can't miss out on "aired meat", chunks of beef that are salted and then hung up to air and become smoked. Before serving, it just needs to be placed on the barbecue for a couple of minutes, leaving you with incredible tasting meat. It comes accompanied by fried yucca and pickled "ocañera" onions. Another classic and delicious dish of the region is the Santanderean tamal, with corn and pork and some small chick peas. And for dessert, some bocadillo veleño, a guava sweet made in Velez, a small Santanderean town. So don't forget, if you want some truly authentic food, make sure you head to Santander. Bon Profit!
Dani Meroño – www.elcocineroviajero.com