We've written a lot of blog posts about coffee on the Colombia Travel Blog over the years. It's not surprising really: coffee is one of Colombia's most important and iconic global exports, it's enjoying a huge wave of popularity worldwide, and it conveniently grows in stunning places. It's no wonder that coffee tourism plays an essential part in Colombia's overall tourism strategy: it grows in about 22 of Colombia's 32 departments as well, so it's really easy to offer a coffee tour or tasting as part of a bigger trip. It really doesn't matter which area of the country you're in (the Amazon and Orinoquia aside for the most part), if you feel the itch you can scratch it with a coffee tour – from Minca in the northern Sierra Nevada, to volcanic slopes on the Ecuador border in Narino. I must have taken at least 30 different coffee tours in my years in Colombia (on basically every Andean press-trip they throw in a coffee tour – it also doesn't help that every department will tell you that they produce the best coffee), but one tour stands out above the others. It took place in the small Quindio towns of Buenavista and Pijao (places that most visitors to Colombia haven't heard of), and is one of my top recommendations for the coffee region. If you need any more convincing, here are 5 reasons why you have to visit Pijao and Buenavista (just 45 minutes from Armenia, or an hour and a half from Salento, so you've got no excuses really!)…
1. The best coffee tour in Colombia
Yep, it's a big statement to make, but I've said if before and I'll say it again: the Wakecup coffee tour with Experiencia Cafetera is the best coffee tour I have personally taken in the country. So many coffee tours take a fairly predictable and simple approach (admittedly one which can still be interesting and enjoyable) – brief intro, pick some beans, explain the process, drink some coffee. Sounds good, right?! Well, for the most part it is, but there's a crucial element often ignored: human beings! So many different people work indescribably hard to bring coffee from a mountain in Colombia to your cup, and this tour dedicates much of its 8 hour time (a treat in itself: so many tours are an hour or two at best) to exploring the lives and roles of these people. Jeep drivers, coffee collective workers, retired pickers, farmers, entrepreneurs: this tour introduces you to them all and more – I ended up playing cards with some delightful old retired farm workers in Pijao town square. I have even taken tours that basically ushered the group away from a group of coffee pickers: Juan David (owner and tour operator) would have walked straight up to them and asked them to explain their work and its ups and downs (another nice detail: Juan David is the guide, but  allows everyone you meet to speak for themselves). There's no shying away from the bad side of coffee production which is a breath of fresh air. Their slogan sums it up perfectly: "Coffee is better when you live it." This is a truly immersive tour that takes you deep into the world of Colombian coffee (and don't worry, you still go coffee picking etc.) – if nothing else on this list convinces you to visit Pijao and Buenavista, then the Experiencia Cafetera tour surely will…
2. Panorama Cafe Hostel
Most of the Experiencia Cafetera tour takes places in and around the delightful little town of Pijao (think Salento without the tourists), but nearby Buenavista is definitely the place to stay when you're in the area. Why? Panorama Cafe Hostel, that's why! Owned by the same people who run Experiencia Cafetera, the hostel operates in the same community spirit as the tours. Small and intimate (only sleeping about 12), the hostel is dominated by one long terrace with a majestic panoramic view over the distant valleys of Quindio – at night you can see the lights of Armenia, and on clear days, the jagged peaks of the Western range of the Andes. There's a variety of speciality coffee available for free all day and posters of all of the people involved in its production lining the walls (you'll meet many of them if you take the tour). They have also included one especially lovely touch: the breakfast is free, but what you get is a voucher entitling you to a pastry and drink in a little cafe on the main square. It forces you to get out into the community, interact with people and gives something back to the town at the same time. It's a community spirit which is really refreshing. There aren't that many places where a hostel alone is a good reason to visit: this is one of them. If you want to relax, read a book, spend some time in a truly authentic little coffee town, then stay at Panorama, it'll be perfect!
Panorama is also just down the road from the excellent local restaurant Rio Azul – this quaint little eatery is easily the best restaurant in Buenavista and features a tasty local menu including various different styles of trout, patacones, and a really good vegetarian option. It even has a nice little balcony with views over the valley beyond. If you're truly committed to dedicating your whole trip to coffee, then make sure to try their coffee rice: unusual but excellent.
3. Visit the most inspiring cafe you might ever visit…
Carlos Arturo is an inspiring man: a coffee farmer who, like many, grew coffee on a small plot of land, struggling to make ends meet. A few years ago he met Juan David while selling bags of his coffee on the main square in Pijao. They chatted, and decided to join forces in promoting coffee and tourism in the town. A couple of years later Carlos Arturo owns the lovely little Cafe La Floresta in the town, and is able to sell all of the coffee he grows in cups or bags. It's the perfect example of breaking the chain of supply: so many people who actually grow and produce products like coffee or cacao see very few of the profits, whilst importers abroad benefit from their hard work. Carlos Arturo is now farmer, picker, roaster, packager, salesman, barista – in short, he's turning his own coffee into his entire livelihood, and operating at all ends of the spectrum. I'll say it again: it's a really inspiring tale, and to be able to visit, order a speciality coffee and listen to Carlos himself explain the entire process behind it is something special. You visit on the tour with Juan David, but if you don't do the tour, make sure to visit Pijao and pay La Floresta a visit anyway for an added shot of inspiration with your latte…
4. Get off-the-beaten-track
It's the goal of so many serious travellers: visit a place that hasn't been overly touched by tourism, escape the crowds, explore, dream, discover etc. What's funny though, is that so many people who purport to espouse these same adventurous values just end up in Salento. Now, don't get me wrong, I like Salento – the Cocora Valley is simply a one-off, the town is pretty, and the hiking is excellent. But Quindio, despite being Colombia's smallest mainland department, has so much to offer beyond one small town. Pijao is probably the prettier town (as I said: think a calmer Salento), but both Pijao and Buenavista are delightfully authentic little towns, with hardly any tourism between them. It's still a place where locals invite you in for a tinto, old men want to talk football in small saloon-like bars, and tourists are a curiosity rather than the norm. Just this alone should be enough to pique your interest if, like me, your idea of travel is to venture to places that embody the spirit of a place – Buenavista and Pijao completely embody the coffee region.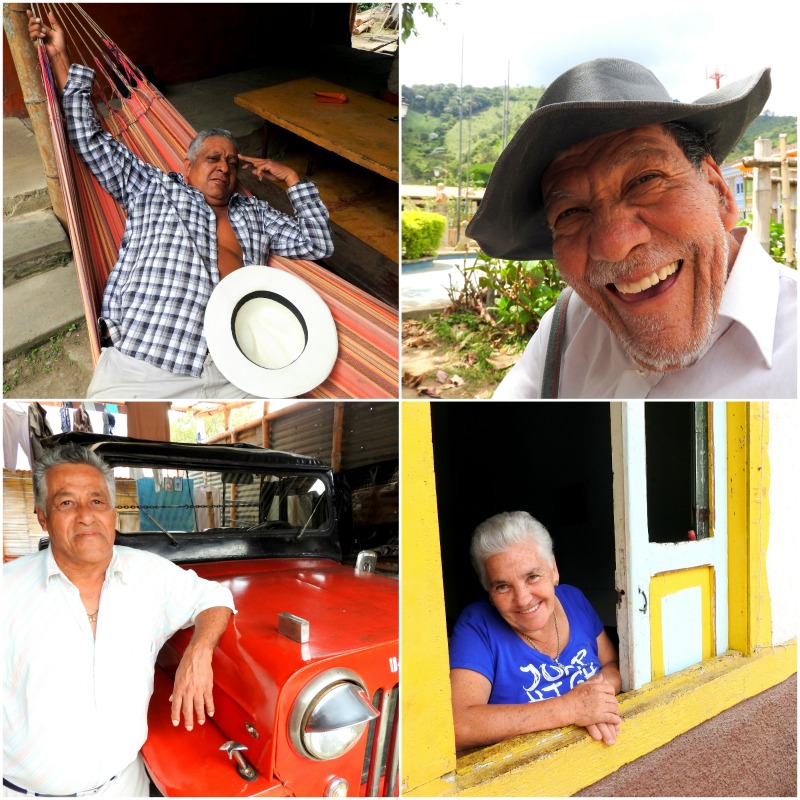 5. Hang out with some of the friendliest people you're likely to meet
Coffee farmer Don Leo (see the cover photo), Carlos Arturo, Juan David, those old card-playing dudes in Pijao, El Mocho the jeep driver (in the hammock above), the twinkly old lady who smiled at me in the sunflower coloured house – people in these towns are just so kind and welcoming it's almost overwhelming. Colombians are known for being nice, but the people of Pijao and Buenavista seem to take it to a whole new level. It's the icing on the cake of some places that would be amazing anyway…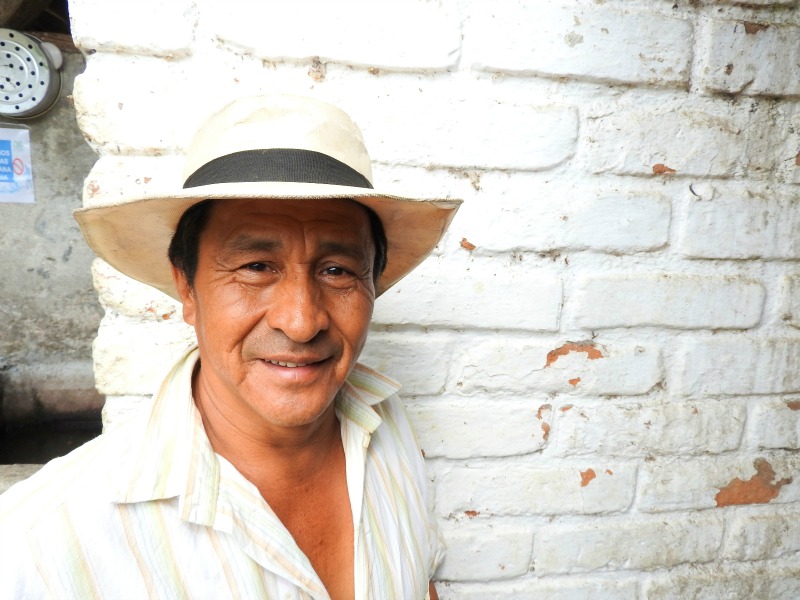 Chris