Colombia is home to a startling abundance of spectacular natural phenomena: vast coastal deserts, diverse coral reefs, rainforests teeming with life, and a remarkable array of birds, plants and animals. Which is why choosing a favourite spot amongst these wonders is an almost impossible task. However, you'd be hard pressed to find a more beautiful (and surprising) place than the Valle del Cocora, or Cocora Valley. The valley is located near Salento in Colombia's verdant Coffee Triangle, and must surely rank as a Colombian travel highlight.
Cocora is probably best known for its gigantic wax palm trees, the national tree of Colombia in fact. These trees, also known as the Quindio Wax Palm (or Ceroxylon quindiuense, Latin fans!) have been known to grow as high as 200ft (60 meters), and are unique in the wild to the Cocora Valley. You might spot the occasional ornamental one in California or Australia, but for the real thing you'll have to visit Colombia. They were first observed in 1801 by Alexander Von Humboldt (definitely in my Top 5 explorers…), and they are now a government protected species.
But enough with the science, we're a travel blog after all! The best way to visit the valley is to stay in Salento, worth a day or two in itself, and wake up nice and early to catch a truck up to the valley. The truck will take about half an hour and cost you the princely sum of 3,000 COP. Once you're there you have a number of options: the first is to be super lazy and stand around the entrance photographing wax palms. Where's the adventure in that though? Therefore, I'd recommend numbers 2 or 3: a day-hike all through the valley, or some horseback riding along the lovely rural paths traversing this wonderful natural spectacle. Much more travellery, right?! I'm rather partial to a bit of a hike myself, so this is the option I went for on my visit, and it was well worth the time and energy.
Not to worry if you're not in the same peak physical condition as I am though: the hike is relatively gentle, with a couple of short, steep uphills. However, it's not a huge distance so you can take your time and stretch the journey out over the day. You'll want plenty of time to stop and enjoy the scenery. A good time estimate would be between 5 to 7 hours, but this is when taking your time and not going on some endurance trek. A particular highlight comes around half way through the day, when a sign will direct you on a slight detour to a place named Acaime: contrary to everything that horror movies have taught me…DO take the detour through the forest! After a short climb through some cloud forest you'll come to a pretty little finca, where you'll be offered a steaming mug of hot chocolate and cheese for about a dollar. That's not all though: at the finca you'll be treated to the stirring sight of at least 10 different species of hummingbirds feeding in close proximity to your seat. It's a great photo op, and a brilliant chance to tick a few more of Colombia's near 1,900 bird species off your list. Even for a non-bird enthusiast it's tough not to appreciate the sights of these little birds buzzing around, flashing their lovely iridescent colours in the sun.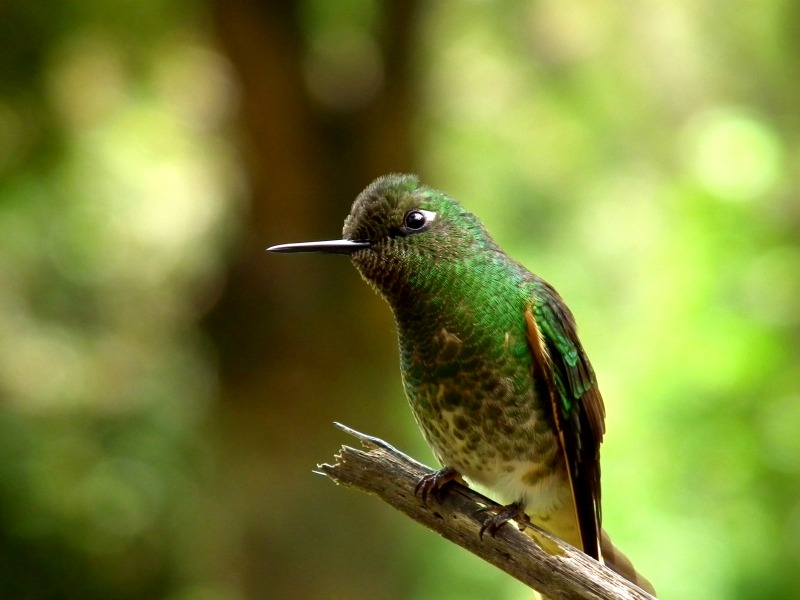 Then it's on to the wax palms. The most spectacular concentration of these trees comes towards the end of the hike, when you'll wander through a lush stretch of the valley, dwarfed by the hundreds of almost prehistoric palms surrounding you. It's quite simply a unique natural experience, and certainly a Colombian highlight for all those who take the trip. They might not be as famous as the redwood or Joshua tree (thanks U2!), but Colombia's wax palms rival any natural phenomenon in the world for uniqueness, beauty and scale. Just one more reason amongst many to come to Colombia…
Chris