We've written previously about the experience of arriving in San Cipriano on the town's famous brujitas: motorbikes strapped to wooden benches, zipping along train tracks through the Pacific jungle…and I'll bet you thought that the town couldn't possibly get any better than it's iconic mode of transport…well, you're wrong! And here's why: San Cipriano is not just brujitas, it is also the home of perhaps the best tubing experience you can have in Colombia…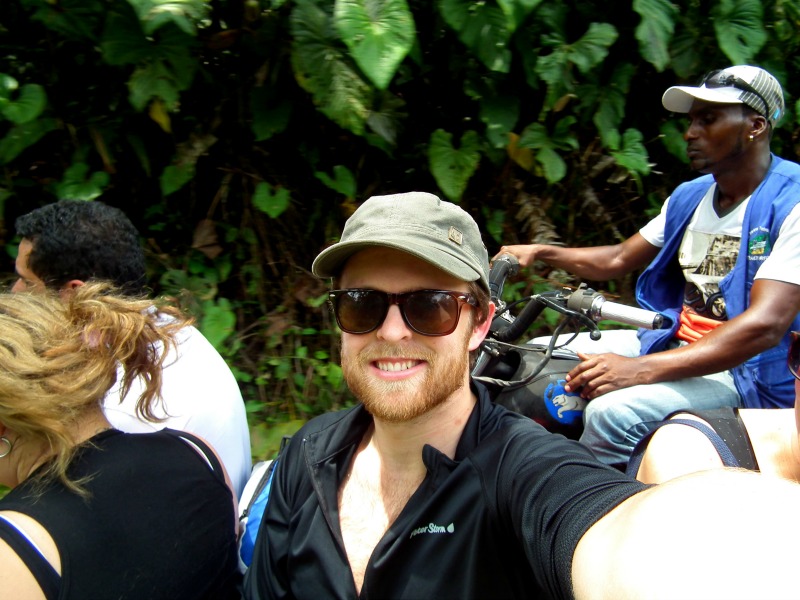 For the uninitiated, tubing is the practice of floating down a river in a large inflated inner-tube, the purpose of which is…well, nothing really; you're just there to enjoy the ride, the scenery, the water, and everything else that comes with floating down a river on a large inner-tube! This activity is especially famous in Colombia in Palomino near Tayrona National Park, and in Rio Claro reserve near Medellin, but it's San Cipriano which takes the biscuit here! Now San Cipriano has plenty of other memorable activities to fill up your days; nature walks, birdwatching, hiking to waterfalls, eating delicious seafood…but the clear highlight is the tubing.
The town lies near the channel of the Calima River, which is fed by numerous tributaries flowing down from the nearby Western range of the Colombian Andes: flowing through the Pacific jungles, these rivers resemble something from a child's jungle fantasy almost more than they resemble any real river! Overhanging rainforest vegetation, toucans and parrots swooping around, crystal clear lagoons with vines to swing from: if I hadn't been there myself I'd call me a liar!
So how can you enjoy this profoundly calming and beautiful experience for yourself? Easy: grab a tube from one of the several rental places in town (pay 5.000COP and a deposit of the same amount), and hike along the dirt path leading out of town (away from the entrance). Pretty soon you'll start reaching signposts pointing you down to various swimming holes, which are the jump-off points to start your tubing adventure. The first of these spots, Balas Tierra and Azul, are just 5 minutes from town. However, this limits your tube time, and they're more likely to be busy at weekends, so keep walking as far as you like, up to Platina, which should take about 45 minutes. It's a bit of a sweat-fest, what with the huge black rubber tube you're carrying, but it's worth it…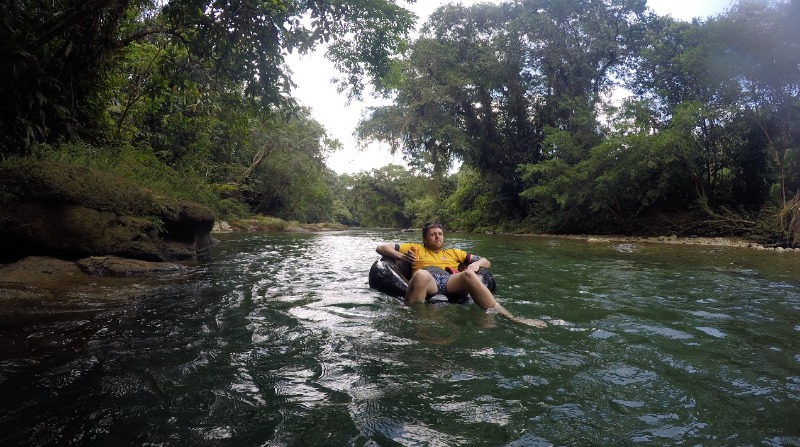 From here on it's simple: sit in your tube (soak it in water first: seriously…it'll be scalding hot!), and let the river carry you home. There are several fairly tame rapid sections to negotiate (but these can be shallow and rocky, so lift yourself up in your tube), and you will arrive, one-by-one, at the swimming holes you passed along the walk. Charco los Sabalos was my favorite by far: a huge open pool, many meters deep, with ample spots to climb up and fling yourself back into the cool water below. Seriously, I can't over-hype the beauty and clarity of the water here: I don't think I have ever swum in a nicer river! And what makes it even better?! Two words: beer canoe! Just look at the photo and you'll know what I mean. Please though, keep your cans, this is a beautiful, pristine slice of nature, and doesn't need littering!
You can really take as long as you like over this experience: some people zip down in less than an hour, we took over 4, as we enjoyed a stop at every swimming hole, and plenty of calmer sections in between. In fact, the most beautiful part (where the cover photo was taken) was probably a deep pool on a river bend, a long way from any signposted spots.
I personally would recommend bringing an old t-shirt for the sun, a hat, and plenty of sunscreen: basically, there's a lot of sun. Did I mention, sun! We all got pretty singed along the way: bring a plastic bag or dry bag that you can tie to your wrist or leg or something like that. It might seem a hassle, but then you can just relax and enjoy the ride with some piece of mind.
San Cipriano on the whole was genuinely one of my favorite places that I have visited in Colombia; for it's nature, people, food and transport…however, I would go back multiple times just to sit on my tube and float down that river again: watching the birds flt between the jungle branches, enjoying a cold Aguila, and diving deep down into the cool river waters of the Colombian Pacific.
Chris