We've written before on this blog about what a paradise Colombia is for bird-lovers: the country boasts the highest number of species of anywhere on earth, a remarkable array of endemics, all located within some of the country's most stunning and isolated regions. A visit here looking for birds can yield quite astounding results – in just a few months of intense searching, my list is now over the 350 species mark, and, at this rate, I'll be hitting my original goal of 500 sometime in August. Last weekend I spent some time at one of the most beautiful birding sites I've ever visited in my life: the Finca Alejandria near Km. 18 just outside of Cali.
This finca, nicknamed 'El Paraiso de los Colibries,' or 'Paradise for Hummingbirds,' is one of those places that you might only end up visiting if you're a birder – this would be a mistake, as this finca has much to offer any visitor. How to get there? From Cali bus terminal, book a bus with Transur, and ask them to drop you at Km. 18, which lies about half an hour outside Cali, on the road to the Pacific coast city of Buenaventura (the bus should cost about 4.000COP). Once you arrive at Km. 18, follow the signs for the finca: the walk along the dirt road into the woods is about 3km., so should take about 45 minutes on foot. There are 2 options at Finca Alejandria: you can visit just to enjoy the birds, or you can stay over. Staying over requires renting the finca building for a total of 200.000COP: contact them in advance for availability and booking details. Sometimes you get lucky: when we arrived, no-one had booked so we were able to rent the entire place for a knock-down price of 100.000COP. This is incredible value (even at full-price) for a whole house in the hills!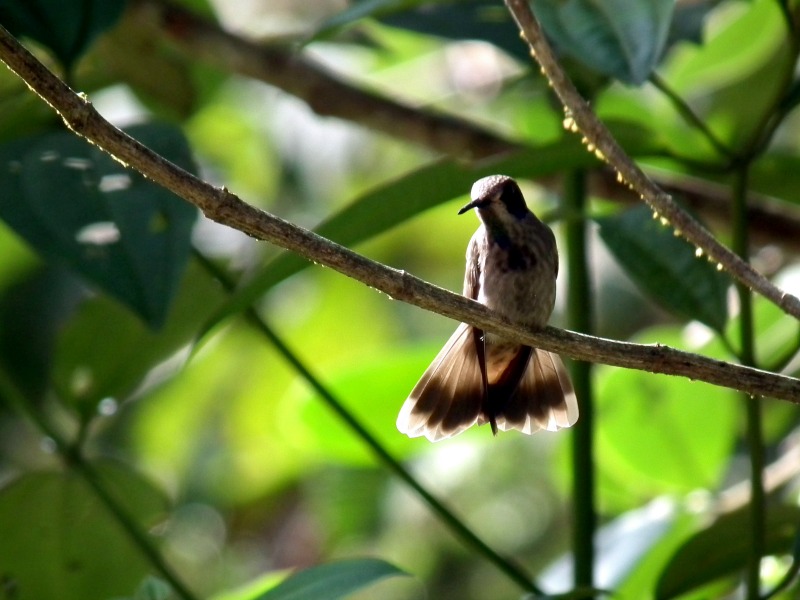 But I'm getting ahead of myself – what's so special about this place? In one words – birds! This place is famous for its diversity of some unique Pacific birds, which visit the banana feeders, and hummingbird nectar feeders which are put out by the finca's knowledgeable and obliging owners/hosts, Raul and Elsa. The real highlight is the chance to see the spectacular endemic Multicolored Tanager up close and personal, as both the male and female of the species regularly visit the feeders, offering amazing views and photo opportunities of a bird which is otherwise almost impossible to get a good look at. Other highlights are the Red-headed Barbet, Flame-rumped Tanager, Masked Flowerpiercer, Bronzy Inca, Long-tailed Sylph, Purple-throated Woodstar, and Blue-headed Sapphire. With a little patience, all of these birds, and many more, can be seen within a few hours at the feeders. The forests surrounding the finca also offer good chances to spot toucanets, quetzals and trogons.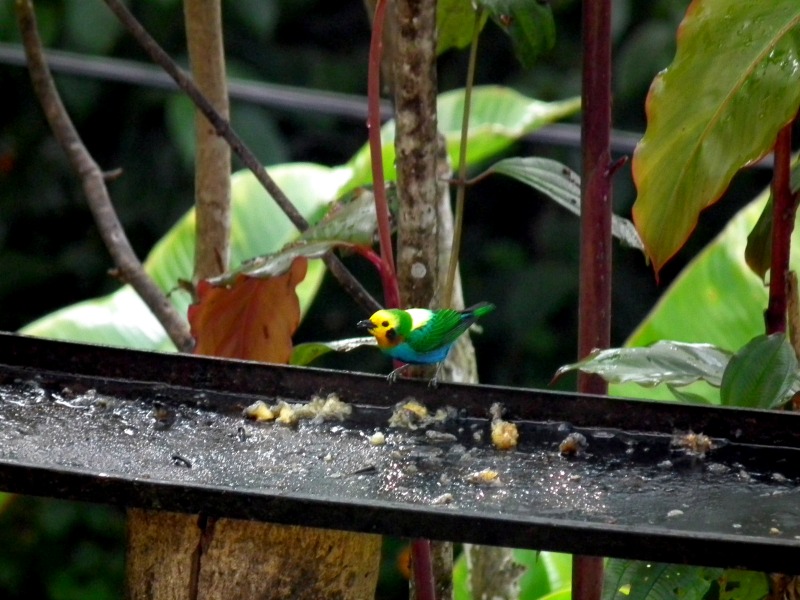 The hosts of Finca Alejandria are as amazing as the birds: Raul and Elsa could not have been more friendly and welcoming. With encyclopaedic knowledge of the birds that call their house home, and a good ear for bird calls, they are a real help, especially if you're a novice. The main house, where the birding happens, is theirs, and they run an Argentine steak house from there most days; if it's not open they will happily order food in the from the main town nearby, which costs about 8.000COP, with a very reasonable 5 mil delivery fee. The accommodation is set further up the hill from the main house: it's simple, but beautiful – a big, old white-washed building with 3 double beds, 2 bathrooms, and a kitchen/lounge combo. The veranda outside offers stirring views over the mist-covered mountains beyond, and is surrounded by forests (another tip: bring warm clothes, despite its proximity to Cali and the Pacific, it gets bitingly cold here at night).
Finca Alejandria is definitely of most interest to birders: if you like birds and you're in Colombia, go…just go! However, even if your interest in our feathered friends only extends as far as a love of nature and the outdoors, then a visit to this place is still well worth it – the isolation is perfect for shutting off from the world for a few days, and you'd have to be made of stone not to find the Multicolored Tanager beautiful! The proximity to Cali, or ease of combining this place with a visit to San Cipriano as I did, means there's really no excuse for not at least popping in for a visit, enjoying some steak, and feasting your eyes on some of Colombia's most unique and special natural wonders.
Find out more about Finca Alejandria, including contact details for bookings, on their Facebook and website…
Chris