Colombia counts many surprising destinations among it's more famous traveller hotspots: how many people came here expecting to find deserts, whale-watching, and a river that runs red, blue and green? I'll wager not too many. Yet perhaps the most surprising place you can visit in Colombia is a tiny little island in the Caribbean called Santa Cruz del Islote. Why, Colombia has lots of Caribbean islands, I hear you cry; what's so special about this one?
Santa Cruz del Islote is in fact the world's most densely populated island (disclaimer: there are some who contend that by now it isn't, but it's at least top 3). A tiny artificial island populated by fishermen and their families, Santa Cruz del Islote is just 0.012 square kilometres and has a population of around 1200 people – which is really pretty crazy if you think about it! It lies next to Tintipan and Mucura Islands in the Corales de San Bernando y Rosales National Park, and is accessible from Tolu and (a bit further) Cartagena.
The island was built (yes, built) in the 19th Century by Afro-Colombian fisherman who came to the San Bernando Island to fish. They established a small artificial settlement next to Tintipan to allow them to stay out and fish for longer periods of time, and gradually, over 200 years this settlement grew (not that much admittedly) into the Santa Cruz del Islote of today.
Santa Cruz del Islote is like something straight out of a Garcia Marquez novel: some 400 children running around, playing and shouting, crossing through people's living rooms to get to the next street, bright colours, and Caribbean breezes. There is a lot of poverty on the island; the government are notable by their absence, and one resident who works in the school told me that he has received little to no funding over the past few years. There is little electricity and fresh water is delivered by the Colombian Navy. Many locals find work in tourism on the nearby Isla Mucura. However, every single person I spoke to told me that they wouldn't want to live anywhere else: as one man (42 years old, born on the island) told me: "Here I know everyone and everyone knows me. We have no crime here, and people get along."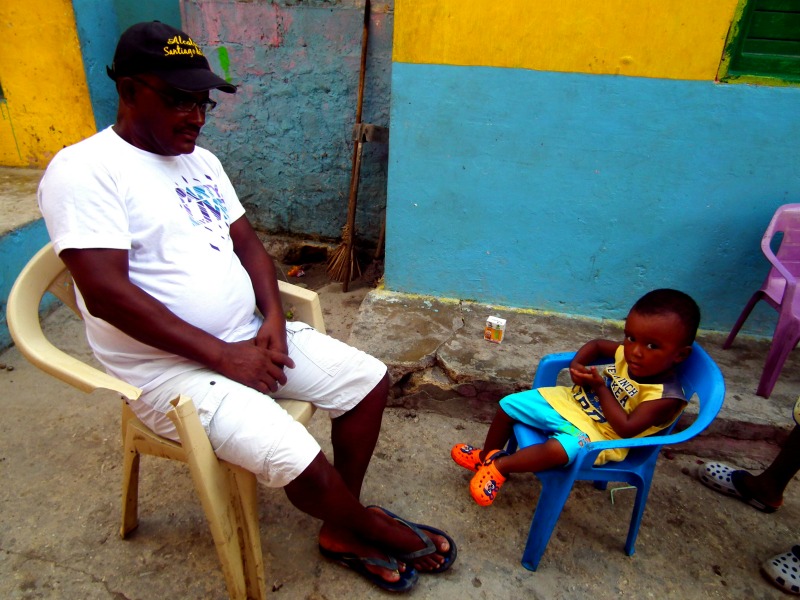 Whilst I wouldn't call the island a 'destination' in the typical sense, it is a fascinating place to visit; not only for it's record breaking dimensions, but also to experience how it's people live, and spend time with them.
Walking around the little island, tailed by impossible numbers of incredibly cute children, you really got a sense of community; of how people are working to improve their lives and the lives of those around them. Yet, above all, there is a sense of happiness in spite of hardship: people are resolutely focused on what they have rather than what they don't have. As another jovial local told me: "At least I'll never get hit by a car!" We could probably all benefit from that attitude.
I'll leave you with some more pictures of the island; words don't really do it justice…
Chris