Everyone knows that Andres Carne de Res is the place to go to party while you're in Bogota. You hire a shuttle bus to Chia, spend the night eating and dancing and then somehow make it home in an Aguardiente-induced blur. But behind the scenes, this club-cum-mini-ciudad has a lot more going for it than just good music and a place to party.
I visited Andres Carne de Res in Chia last week with JL, Toya writer from El Pais y Colombia de Una and Jorge from Que Pena Con Usted. We went along during the day and boy, does the place look different when you're sober. You can see all the intricate details that make the place what it is – the recycled ornaments, the hand-painted signs and the autographed posters. Everywhere you look there is something to be discovered.
Andres Carne de Res started out as a restaurant with six tables (yes SIX tables).  The notorious owner Andres started the establishment back in 1982 with his wife Estela. Now there are more than 200 tables covering more than 6000 square meters of space to cater for up to 3000 guests – quite a feat from such humble beginnings.
Given the name, Andres Carne de Res specializes in meat and simple yet delicious national dishes. We tried a smorgasbord of dishes inclulding Arepa de Choclo, Chicharrones, Lomo al Trapo and Platano Asado con Galea con queso paipa. Catering for up to 3000 guests at a time, the kitchens at Andres works like clock-work. It has to.  The separate kitchens communicate with each other via headphone devices, waiters have strict instruction on what to do and how to do it, and somehow, it all works.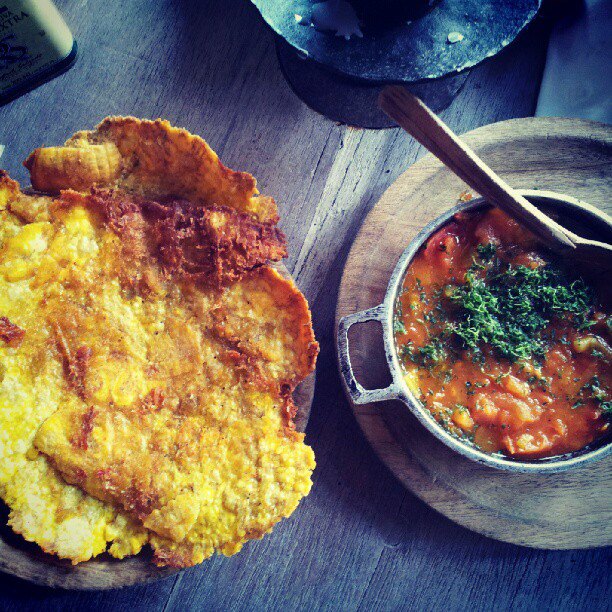 Here are some more impressive facts about the infamous Andres Carne de Res, Chia:
The menus is a mammoth 63-page book
The restaurant occupies 6000m2 of space
For the best seats in the house, booking are required 20 days in advance
The parking space is 55,000m2
Two waiters take care of each table (one man and one woman)
2000 employees working for the franchise
If you've ever been to Andres, then you would have shared a space that was once visited by the likes of Gabriel Garcia Marquez and Maradona. Maradona has left a bit of a surprise on one of the tables so we don't forget!
Head along to Andres, order your favorite Colombian dish, look for the table at which Maradona once sat and try and figure out why there are so many yellow butterflies around the place. From the music, the eclectic decorations and, of course, the food, Andres is definitely more than just a place to party, it's a fiesta for the senses.
Sarah