Check out 'The Top 10 Treks in Colombia: from Andes to Amazon' 
My feet were soaked. My bag weighed heavy on my back. I was tired. More tired than I think I've ever been. But alongside the exhaustion and dehydration was a sense of unmistakeable contentment. I had arrived at the Kravice waterfalls.
This was in Bosnia about 5 years ago. My friend and I had naively believed we could walk to distance from the local town to these waterfalls, assuming the locals' warnings were just friendly assumptions that, as foreigners, we'd just want the easiest way there. It turned out that what we thought was just a walk was a hike of monumental proportions, and we'd only prepared ourselves with a 2 litre bottle of beer and a loaf of bread. Nonetheless, it's an experience we still talk about now, and one that gave us an immense feeling of satisfaction.
That walk was my first long-walking experience. It was only afterwards that I realised what I did wasn't simply a walk, but had a special name.
Lucky for me living in Colombia gives me ample opportunity to indulge in walking to places that are more difficult than normal walking. It's a country of vastly varied landscapes and, therefore, offers something for everyone: from mountainous terrain to jungles to areas that offer incredible wildlife-watching opportunities.
I'm told these long, sometimes difficult walks are otherwise known as hikes. Hikes in Colombia are altogether pretty epic, and if you get a chance you should get your boots on, pack more than just beer and bread, and hike across some of this country's incredible terrain.
Here are the Colombia Travel Blog's top 5 in Colombia.
Ciudad Perdida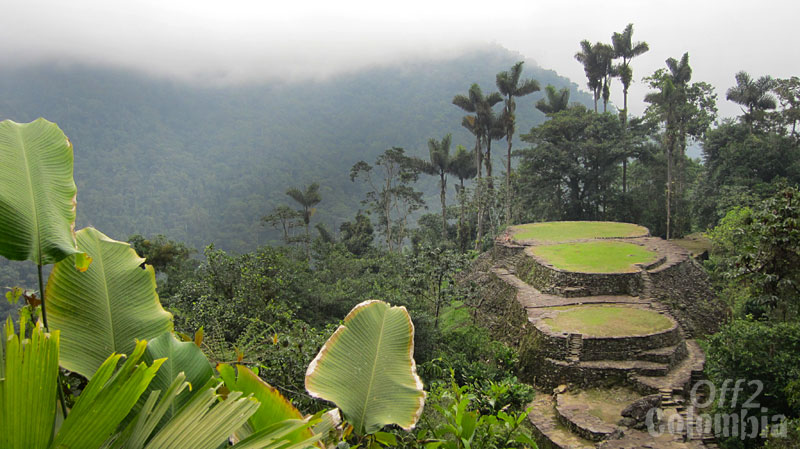 The Lost City Trek, or Ciudad Perdida, culminates in the ruins of an ancient indigenous site that dates back further than Macchu Piccu. Moreover, this is a trek that demands something of those who participate. It's a true adventurer's hike, and one of the most rewarding in the continent.
Los Nevados
Los Nevados are some of the most spectacular mountain regions in the country. Particularly impressive is the snow-capped Nevado del Ruiz, which dominates the landscape. Some of the most stunning views in the country are hidden away in this national park.
Sierra Nevada del Cocuy
More mountains, this time just 8 hours from Bogotá. This region boasts several snowcapped mountains and dozens of beautiful galacial lakes. Hikes can vary from a relatively easy level to advanced, so it's best to plan carefully which you'd prefer. Again, this area offers some truely incredible views.
Puracé National Park
The lesser-known Puracé National Park is located in the southern regions of Colombia, and is one of the best places to find unique wildlife, as well as some stunning vistas. Along with the volcanos and thermal pools, you might just wander across a bear, a tapir or a cougar. And not the Desperate Housewives kind of cougar.
Cocora Valley
If the tough, cold-climate, shoe-soaking hikes above don't tickle your fancy don't worry. Cocora Valley is one of Colombia's most unique landscapes and, what's more, it's a very simple trek to manage. Oh, and they do some pretty sweet trout at the base.
Got any more to add to the list? Let us know in the comments.
Paul