To round off safety week Colombia Travel Blog is going to be looking at the places which were once no-go zones in Colombia and have opened up to travel. Many areas were once controlled by either guerrillas or paramilitaries, and were impossible for travellers to visit. However in the last 10 years Colombia has seen dramatic increases in international tourism and many of these places are now completely safe for you to enjoy. So here are the Top 5 reopened highlights of Colombia: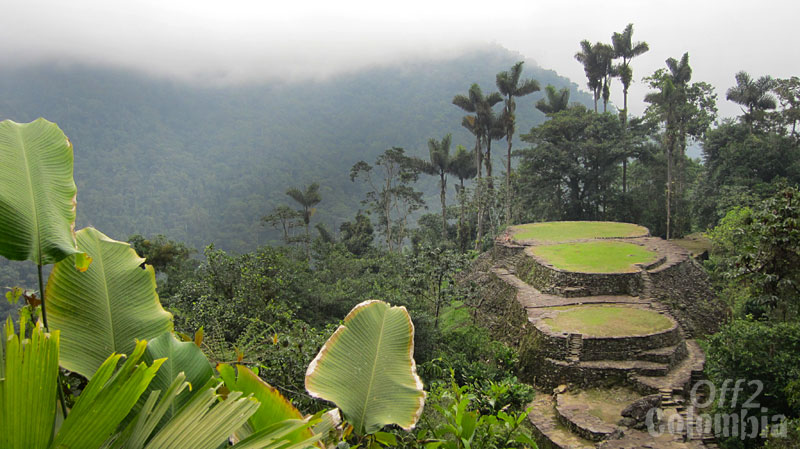 1. The Lost City
Colombia's most well-known archaeological treasure is La Ciudad Perdida, hidden away deep in the Sierra Nevada de Santa Marta. It predates South America's most famous tourist attraction, Machu Picchu, by some 650 years, and was only discovered 40 years ago. It is fast becoming a must-see for travellers to not just Colombia, but Latin America as a whole. However, for two years the area was essentially off-limits to tourists following the kidnapping of 8 foreign tourists visiting the Lost City in 2003. Right-wing paramilitary group AUC declared themselves as the protectors of the region, and visits to the city were heavily restricted. However, since 2005 (with a heavy military presence) the trek has been open once again to tourists, and is now considered incredibly safe.
2. San Agustin
San Agustin is second only to the Lost City on the list of ancient treasures that Colombia has to offer. A UNESCO World Heritage site, seeing these pre-Columbian stone figures which dot the green hills of Huila department is an experience not to be missed. San Agustin village is a pretty, old-fashioned pueblo, and is home to some of Colombia's best hostels, offering beautiful views of the verdant surroundings. For many years though, tourists were unable to experience these remnants from another world, as San Agustin was inaccessible due to FARC activity in the region. Now guerrilla-free and thriving as a tourist destination, San Agustin is a highlight of any South American odyssey.
3. El Cocuy National Park
Until around 2005 visiting this spectacular landscape of snow-capped peaks, crystal-clear mountain lakes and soaring Andean Condors was nothing but a pipe-dream for any traveller. The isolated mountainous regions were a hot-spot for guerrilla activity, and considered far too dangerous to travel. However, a special mountain army unit and increased police presence in nearby towns have placed El Cocuy firmly back on the trekking trail. Now visitors are able to enjoy the magnificent mountain vistas of the 6 day circuit in peace and quiet.
4. El Chocó
Once a popular destination for holidaying Colombians, the Pacific coastline of the Chocó became one of Colombia's most dangerous regions in 1993 with the arrival of the ELN guerrillas. Conflict between the guerrillas, paramilitaries and the military continued throughout the 1990's into the 2000's. Things came to a head in 2002, when 119 civilians were killed by the FARC in the town of Bojayá during a territorial struggle with paramilitaries. Whilst conflict continues (particularly within the inland jungle, which is a key area of coca cultivation) and the Chocó remains one of Colombia's more dangerous departments, the whale-watching ecolodges of the national parks along the Pacific coast are slowly reopening their doors to tourists and the Chocó coast is poised to become a must-visit ecotourism destination in South America on account of its spectacular proximity to breeding humpback whales and its remarkable orchid covered beaches.
5. Medellín
As mentioned in our previous blog, whilst still not completely safe, Medellín is reinventing itself and attempting to change its image from criminal metropolis to cultural centre, through architectural projects and world-class museums. The Escobar drug cartels meant that Medellín was once Colombia's, and one of the worlds, most dangerous cities. A sky-high murder rate left Medellín off-limits to travellers and Colombians alike for decades. However, a huge government effort to clean up Medellín is really paying off, and today it is a haven for backpackers and expats, coming together to enjoys the many benefits of the City of Eternal Spring.
Well, that's it for safety week here at Colombia Travel Blog. We hope you've enjoyed it as much as we have. Check out Paul's infographic for a nice visual representation of how safety in Colombia has dramatically improved over the past 10 years.
Chris